A warning first, this page will take some time to load! We are excited about the new house that Elizabeth and I bought and moved into during the end of January of this year. The house is located in the southern part of Wichita Falls, next to one of the major arteries, Southwest Parkway.
I wanted to take some time and show you the place so I went outside today, February 25th, and took some pictures of the place. Check them out and let me know what you think of the place. If you click on the picture, you'll get a new page with the larger picture. Then all you have to do is hit your back button to get back to this page. Let's go outside ....
This is the exterior of the house. There are three large pine trees and a big magnolia tree. The yard is landscaped real nicely and it is evident that someone put a lot of work into the place before we got here. Let me step back so you can see the magnolia tree too.
We've got a nice parking lot on the side of the house as you can see. I think someone used to park an RV over there as the driveway is somewhat wide. As you can see, there is a gas station right out the back fence.
I know it's hard to believe that there is a store back there, so let me show you a close up ... and while we're at it, let me show you the origin of this web page ... a DirecPC satellite dish.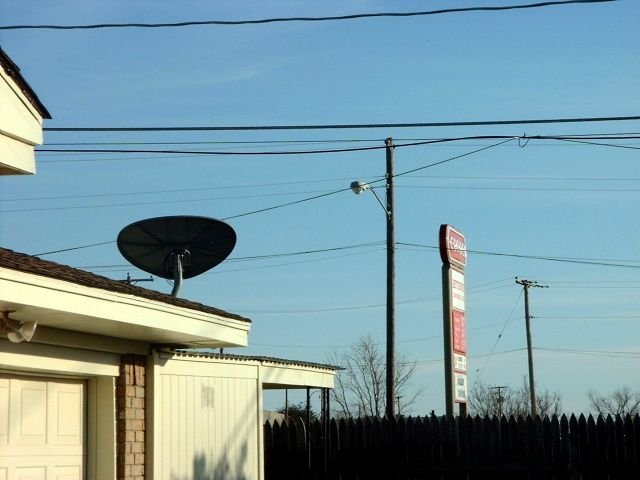 Now I know a couple of you out there are going, "Yeah, right .... this page is not coming from a satellite dish ..." So let me prove it to you. Make sure you click on the next picture..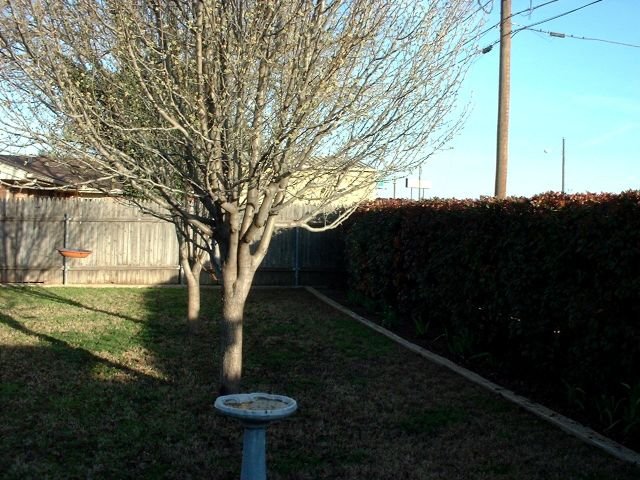 .
This is the backyard. There are three trees back there. A couple are Bradford pear trees. One is a purple plum, I think. There is a large hedge row along the back fence.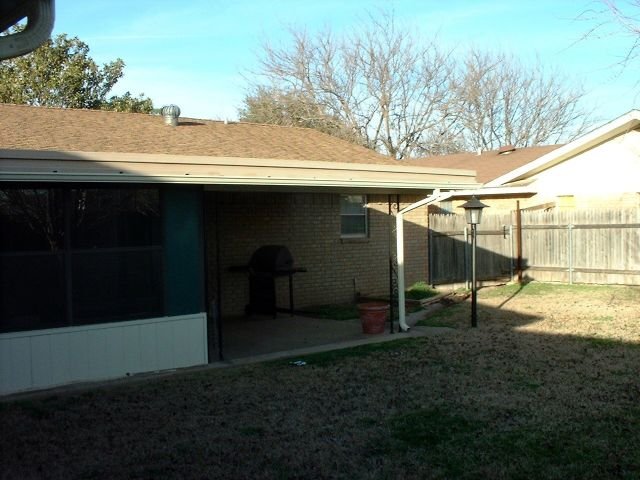 This isn't the greatest picture in the world, but it shows the back porch and the nice closed in porch area. The porch has a roof over a slab leading into the house. There is another climate controlled room inside as well. Here's another view of it:
The tour is about over, so hold your horses. Let's walk out to the front yard for a minute. Here is a little statue that we inherited when we bought the place in the front garden:
I guess we can call this the Kermit D. Frog Memorial Garden or something, huh? Finally, we're back to the front door and I'm ready to quit .... check out the photographer ...
Now to add the requisite personal touch, Elizabeth and I want to say thanks for stopping by in person!
Yep, it's very nice getting out of the hotels after out little fiasco in Burkburnett. We didn't ever think that little episode would be over. But we're settled back in and making the best of life again!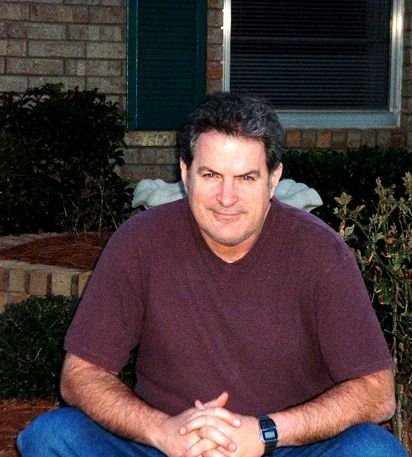 Just in case you're interested, you're visitor ....
to this page!