Things of Interest
---
Great Place in Dallas ... Lots of Monkeys and the like!
These pictures were taken during the holiday season. My Daughter-In-Law, Elizabeth ... Sam Jr and Family took the opportunity to visit during one of the biggest snow storms in a couple of years .... and had lots of fun!
Yes, they do sell snow chains in West Virginia .... and yes, they sure have been needed for the last month or so. As you can see, it is pretty rough getting around in the old hometown right now. I bet Sam and Elizabeth's Texas Suburban didn't know what to think!
George and that crazy snow cat Salem. This cat doesn't mind the snow and makes like it isn't there. Of course she is hairy as a big old rat. Check out the icicles on the house. They were at least 36 inches long at one time.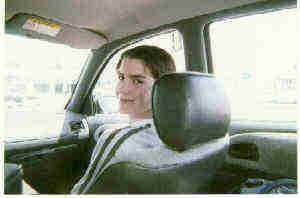 Parking lot at KMart on Cumberland Road .... Grandson Allen wishing he could have been driving in all the snow!
---
This page was last updated on Thursday, August 05, 1999 11:16:13 AM